Nosaj Partners with The Community Foundation & HandsOn for the Richmond Folk Festival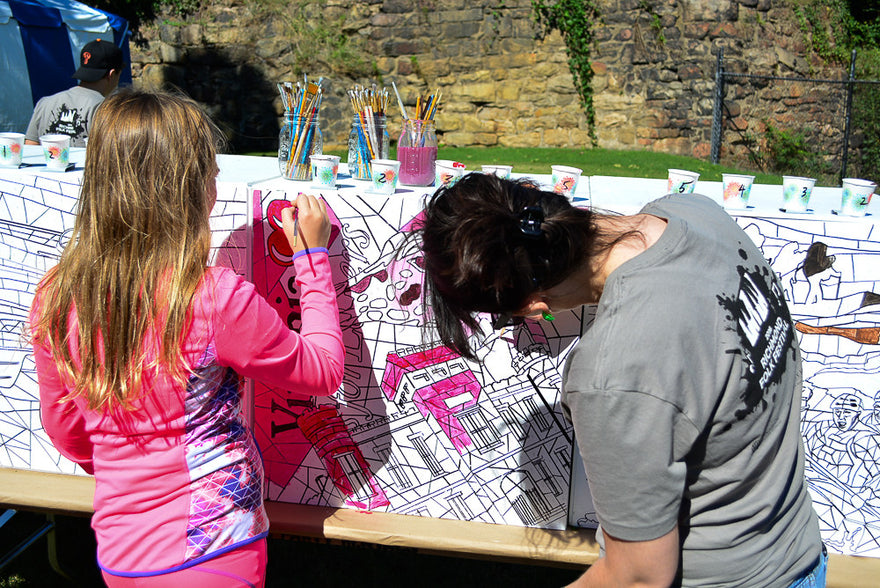 The 2016 Richmond Folk Festival brought together a collaborative partnership between Nosaj Authentics, the Community Foundation, and HandsOn Greater Richmond. The goal of the partnership was to create a fun and interactive art experience that would shed light on the 8 priority areas of the Capital Region Collaborative whose main purpose is to enhance the quality of life in the Greater Richmond Region. The priority areas of the collaborative are Education, Job Creation, Workforce Preparation, Social Stability, Healthy Community, Coordinated Transportation, the James River, and Quality Place.
Nosaj Authentics and its partners decided to push the boundaries of conventional paint by numbers concepts by having images sectioned off on 8 separate boxes that would fit together into one, cohesive large-scale image. Jason Ford of Nosaj Authentics worked with both organizations to conceptualize images that displayed elements of Richmond for each priority area. Also, Jason constructed and illustrated the boxes by hand for Folk Festival participants to paint. The goal was to make the interactive art experience not only creative, but also informative.
View the images below to see snapshots of the the process from start to finish including the Richmond Folk Festival participants collectively painting each handcrafted box.
Leave a comment
Comments will be approved before showing up.